Details and terms - Wilderness Tower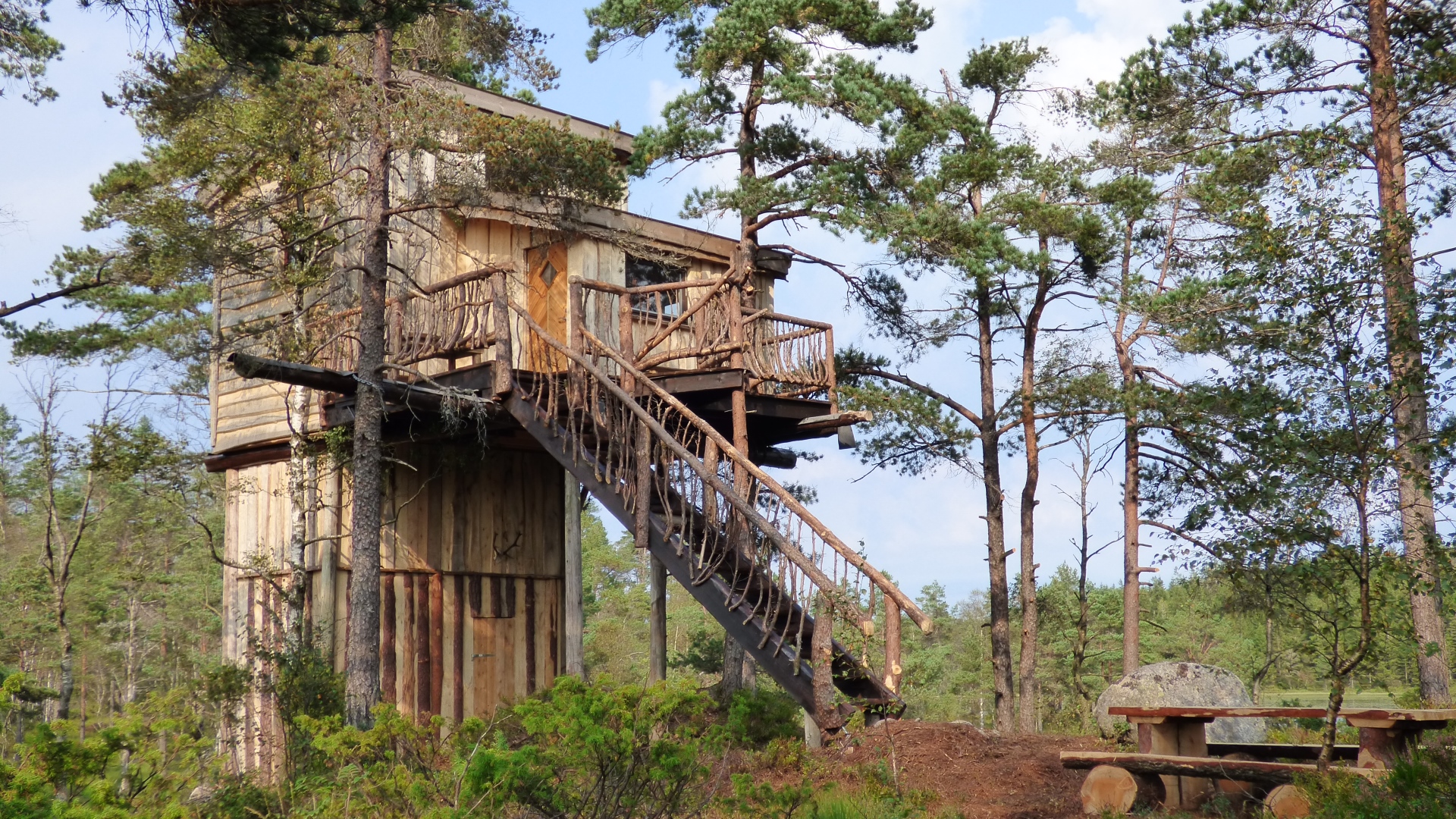 You may have booked or planning to book the Wilderness Tower.
Please read this page,
here you will find important information about your stay.
Check in and Check out
Check-in: 14:00
Check out: 12:00
There is no check in procedure, the door is unlocked when you arrive.
Early check-in or late check-out policy:
Please check our booking calendar one day before arriving. If your check in, or check out date is available, please get in touch.
Payment deadlines
- For bookings more than 10 days before check in date - 3 days payment deadline
- For bookings less than 10 days before check in date - Payment immediately.
If we do not receive your payment within the deadline, your reservation may be cancelled without notice.
Cancellation policy
If you need to cancel your stay, the following rules apply:
- Cancellation more than 30 days before arrival - 90% refund
- Cancellation from 30 to 5 days before arrival - 50% refund
- Cancellation less than 5 days before arrival - No refund
We do not refund PayPal, credit card or TransferWise fees.
Check with your travel insurance if cancellation gives you any rights.
For gift cards, cancellation policy applies only if you have selected dates for your stay.
COVID 19 - CANCELATION
If the authorities create new covid 19 restrictions that make entry into our area impossible,
we offer change of dates for affected guests for only NOK 400.
Directions, Parking and arrival
Road declaration from Konsmo (from the local Spar Supermarket) up to TreeTop Fiddan. Total distance is about 9 km
- From Spar Konsmo drive 3.5 km south on Fv460.
- Drive for 2.6 km by the Fv508 and left into Birkeland.
- Turn right and drive towards Havreseland for 0.9 km.
- Turn right to roadnumber 95 next to a small red building and drive for 1,5 km.
On this road, always turn right, never turn left.
- You just arrived the parking for Wilderness Tower - look for a wooden sign "Villmarks Tårnet
"Find parking on the map and navigate with any app to the location.
Click on this link: https://w3w.co/radioene.anelse.tilhengeren
From the parking you can follow the walking trail (350 meters) or paddle/rowing over the lake (300 meters). Start rowing on the right side of the lake, and soon you will see the cabin on your right side. There is a wooden port to tie up the boat by the Wilderness Tower. In winter, there may be ice on the lake or a lot of snow. In such cases, we must keep in touch the day before arrival to arrange the best way for transport you to the cabin.
We are happy to pick up our guests who come by plane or train. See rates on our booking page. The cabin is not locked when you arrive, no key is needed. Just enter and feel at home.
Facts about the Wilderness Tower
| | |
| --- | --- |
| Living area: | 20m2 + loft 5m2 |
| Beds with pillows and duvets | 6 - (4 single and og 1 double) |
| hammock | 1 |
| Sofa | 1 |
| Recommended number of guests | 2 - 6 |
| Max number of guests | 7 |
| Seating at dining table | 6 |
| Number of floors | 4 - (woodshed, mini-barn, living area and loft) |
| Electricity | No, the cabin is lit by candles and some battery lamps. |
| Heating | Wood stove |
| Smoke Detector | Yes |
| Gas detector | Yes |
| Fire extinguisher | Yes |
| Powerbank with USB port | Yes - for charging cell phones and battery lamps |
| Mobile coverage | Yes, but some operators may have weak signal |
| Consumables included | Firewood, gas, water, candles, toilet paper, paper towels, dish soap and cloths |
Outside the Wilderness Tower
| | |
| --- | --- |
| Balcony with benches and tables | Yes |
| Bonfire place with benches and tables | Yes |
| Wood Fired Hot tub | Yes, for an extra cost - see booking page |
| Wood Fired Sauna | Yes, for an extra cost - see booking page |
| Outdoor shower | Yes |
| A swing | Yes |
| Climbing frame | Yes |
| Canoe and rowing boat | Yes, in "Lake Svartevann" |
| Fishing | Yes, there is perch in "Lake Fiskekrogen" |
| Bird and squirrel feeding | Yes |
| Ax for wood splitting | Yes |
| Woodshed | Yes, with firewood for bonfire, wood stove, hottub and sauna |
| Carpenters bench | Yes, with plank bits, hammer, saw and nails |
| "Mini barn" | Yes, with a ladder up from the woodshed |
| Outhouse (Composting toilet) | Yes, with great views of the marsh and "Lake Fiskekrogen" |
| Modern bathroom, 2 km from the cabin | Yes, on Fiddan Øko Gård (wc and shower) |
Kitchen and cooking - Wilderness Tower
| | |
| --- | --- |
| Cooktop - Gas powered | Yes, with 4 burners . |
| Wood-stove with oven | Yes |
| Bonfire with barbecue facilities | Yes |
| Fridge | Yes |
| cooking pots, frying pan and coffee pot | Yes |
| Plate, bowl, glass, cup and cutlery | Yes, for 8 persons |
| Ovenproof dish | Yes |
| Knives, wooden spoons, Spatula etc. | Yes |
| Tap water | Yes, rainwater or water from the lake. |
| Tap water in frost or lack of rain | No, water must be carried from the lake |
| Drinking water | Yes, on plastic cans from our farm. |
| SORTED WASTE COLLECTION: | |
| Organic waste | Throw in the compost bin behind the outhouse. |
| Plastic, paper, glass and metal | Sort and leave at the parking |
| General wast that cannot be recycled. | Leave at the parking |
Dog and leash
It is allowed to bring your dog to the Wilderness Tower, but PLEASE keep the dog away from sofa and beds.
NOTE - Always keep the dog in leash because we want wild animals near the cabin.
the fire hazard
The cabin is lit with candles and heated with wood stove. Be very careful with the fire and be sure to extinguish the light before falling asleep or leaving the cabin. The bonfire lot can be used with caution throughout the year, but any use of fire outside the cabin is prohibited when there is a forest fire hazard. Ask us about this upon arrival.
The cook top and fridge are powered by propan gas and have a high level of safety. If gas leaks appears or suspicious odor of gas, please disconnect the gas bottle and contact us.
In case of an a emergency situation, there is a fire extinguisher under the stone sink. You will also find buckets in the cabin to fetch water to extinguish.
In case of fire - Call 110
Out-house/Composting toilet
The outhouse is designed to be as odorless as possible, but we depend that everyone are pouring a box of sawdust after using it so that it covers what you have left. Sawdust is ready in a wooden bowl.
special care of vegetation and nature
It is important to maintain the vegetation below and around the cabin, so please use existing trails and bonfire place. Never cut trees or branches.
Weather conditions
In extreme weather conditions, especially in strong winds, we may have to cancel your stay. In such cases, you will be offered to move your booking to other available dates.
What to bring to the Wilderness Tower
What is not included? You should bring or buy from us:
- Bed linen and towels - (Can be rented for NOK 130, - per person)
- Clean up the cabin after use - (Can be purchased for NOK 400, -)
- Life jacket if you want to use canoe or boat
- Good footwear, like boots
- Your favourite food and drinks
- Ski or snowshoe in winter
- Flashlight or headlamp
- Fishing rod
See also price table for optional services on the Booking Page.
Additional Services SHOULD BE BOOKED AT LEAST 2 DAYS IN ADVANCE TO YOUR CHECK IN DATE.
If you have any special wishes, please contact us.
Final considerations
In the cabin you will find practical information about the Wilderness Tower. If you wonder about anything else, just give us a call or a message. Please clean up after leaving or leave the cabin in the same condition as when you arrived.
For our future, positive reviews are very important. Write your review on Google, Facebook, Instagram, AirBnb, Tripadvisor or wherever you want. We are also happy for any feedback and suggestions for improvements, so please send a few words about your stay. Thanks in advance.
We love personal contact with our guests, and you are welcome to visit us on our organic farm (Fiddan Øko-Gård). Call us in advance to make sure we are home, or just stop by.